The Online Aeronautical Exhibition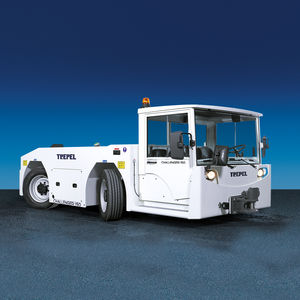 tow tractor
CHALLENGER 150
Towing capacity: 160 t
Working speed: 0 km/h - 30 km/h
The CHALLENGER 150 is the perfect solution for customers who need to handle in particular the B737 and A320 fleets. What's more is: The fully ballasted CHALLENGER 150 is also able to push out the B767-200/300 at Maximum Ramp Weight. The ...
See the other products
TREPEL AIRPORT EQUIPMENT GMBH

Towing capacity: 6,000 lb - 16,000 lb
Working speed: 25 km/h
Tractors has been specially designed to tow carts, and trolleys in airports, train stations, industrial zones, etc…and also to tow aircrafts The tractor is fitted with a remote control ...

... kVA GPU is available as an option. Like all TLD tractors, the TPX series are efficient in design (2WS, 2WD) simplifying operational and maintenance tasks while offering the best TCO of comparable tractors.
See the other products
TLD

The equipment is mainly used in the airlines, mail,special plane, official aircraft goods, mail, baggage loading, transmission, transition and so on.
See the other products
WEIHAI GUANGTAI AIRPORT EQUIPMENT CO., LTD

tow tractor
TE. TPE. 202/204
Towing capacity: 4, 2 kg
Working speed: 12, 6, 10 km/h
See the other products
CHARLATTE MANUTENTION

Towing capacity: 1,500 kg
Working speed: 14.5 km/h
Vehicle SpecificationTow Tractor T150 - ST151 Model T150 Tow Tractor Option ST151
See the other products
BRADSHAW ELECTRIC VEHICLES

... major OEM's. The TaxiBot prototype for single-aisle aircraft was presented in inter-airport-europe 2011 and a TaxiBot from serial production was on display in inter-airport-europe 2013. The first autonomous ...
See the other products
TAXIBOT

Apron Tractor is an essential part of ground support equipment and serve multiple purposes. They are used to tow ground support equipment, baggage carts and any other equipment. MAK AT20 ...

Towing capacity: 2,500 kg
Working speed: 25, 16 km/h
AZM E-2500KG TOW TRACTOR Electric Tow Tractor Towing Capacity: 25 Tons Max Speed: 25 KPH
See the other products
Eagle Industries DWC-LLC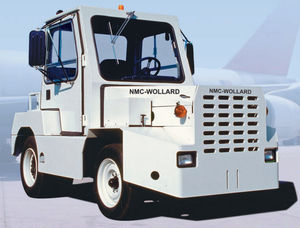 Towing capacity: 8,000 lb - 12,000 lb
Working speed: 19 km/h - 32 km/h
8,000 to 12,000 lbs. drawbar pull Rugged cargo tractor has planetary axle DBP from 8,000 to 12,000 lbs. (3,630 to 5,640 kg) ● Maximum load capacity: 120,000 lbs. (56,400 kg) ● Rugged. Front bumper and frame are massive ...
See the other products
NMC WOLLARD INTERNATIONAL, LTD, Hong Kong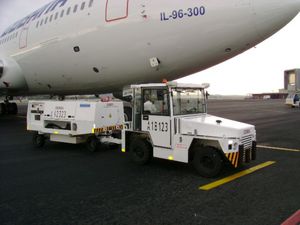 Towing capacity: 2,270 kg
The Tow Tractor, model TA-5 is a compact and robust vehicle designed especially for pulling/pushing and positioning of ancillary units in airports, docks and industrial plants as well as aircraft at airbases ...
See the other products
EINSA - EQUIPOS INDUSTRIALES DE MANUTENCIÓN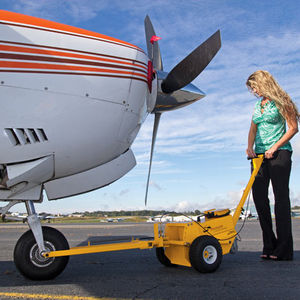 Easily move small aircraft quickly and safely in tight areas. The model 701E is collapsible for compact stowing. Optional ball hitch attachment for movement of small trailers & campers. The model 701EL is equipped with an extra-heavy-duty ...
See the other products
Priceless Aviation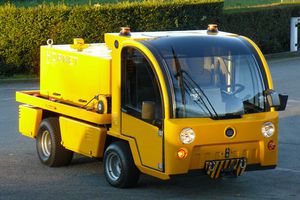 tow tractor
Hornet series
... diesel generators. Units are available in a fixed, mobile or towable configuration and can be also installed on GB's airport tractors, in order to tow and start the aircraft using a single vehicle.

Towing capacity: 300 kg
Working speed: 0 km/h - 3 km/h
Motor24V DC, 200W Trekkracht300 kg Maximum speedMax 3 km/h programmable BatteryIntegrated battery TiresFull Rubber Ø180x80 mm Weight70 Kg (incl. Battery) FrameSteel Powdercoated Width750 mm Length447 mm Adze height1196 mm
See the other products
Movexx International BV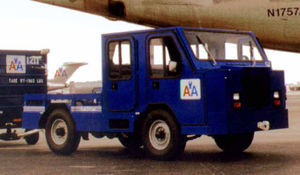 Towing capacity: 3,175 kg
The APV was designed from the ground up specifically for the airline industry. Personnel from all aspects of the industry provided valuable input during the design and development of the APV. The result is a durable vehicle ...

tow tractor
TG-5012/16 CNG
... ): TG-5012 = 5450 daN. (12000 Lbs) TG-5016 = 7270 daN. (16000 Lbs) Adhesive co-effi cient: 0.57. The TG-5012 and TG-5016 tractors comply with EN12312-7 requirements.
See the other products
TEMG

Towing capacity: 5,000 kg
Working speed: 7 km/h
... to pilots that find them selves on their own with the task of moving their aircraft. For flying clubs, private owners, airports or training organisations.
See the other products
Aero-Pac - Aircraftplugs

Towing capacity: 1,000 kg
... battery, these units can be used in a 24 Hour operation such as manufacturing plants, Hospitals, Nursing homes, Aged care and Airports.

See the other products
POWER FORCE TECHNOLOGIES PTE LTD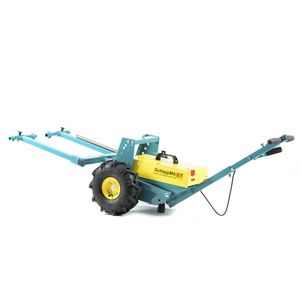 Towing capacity: 2,000 kg
MOTOR Strong 24 V 400 W electrical drive sytem with intelligent electronic control OPERATION Fast ergonomic adjustment oft he tiller control handle to the size oft he user Sensitive manual steering by slightly lifting and sviveling ...
See the other products
Como GbR SchleppMAXXE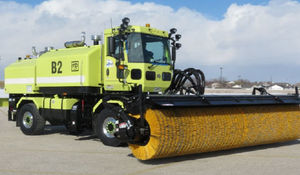 MB3 Front Mount Broom When it comes to airport snow removal, the MB3 is in a class all by itself. The MB3 is a versatile custom cab forward airport chassis designed for front mounted plows, front mounted ...
See the other products
M-B Companies, Inc.

Towing capacity: 1,800 kg
Working speed: 8 mph
The E-330 electric flatbed truck stands out with superior maneuverability and safety. Batteries are located on the rear to increase weight on the traction drive, enhancing the braking performance with a short stopping distance. This electric ...
See the other products
EPOWERTRUCKS

ELECTRICAL TOWING VEHICLES "For the same engine, the electrical engine torque is higher to any heat engine". Following this principle, we have developed a product line that allows moving aircrafts so heavy with very small engines. But ...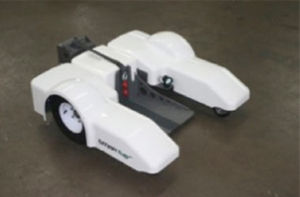 Towing capacity: 10,000 lb
The SMARTug M3 is design for aircraft up to 10,000 lbs. gross weight. Standard equipment includes: Electric Hydraulic NLG Lifting System aircraft-tugs-m3Night Operation Halogen Loading Light Integrated 10 Amp Battery Charger Electric ...
See the other products
SMARTug

See the other products
Giliberti, Inc.